Commusic
Ad Cominotto's music factory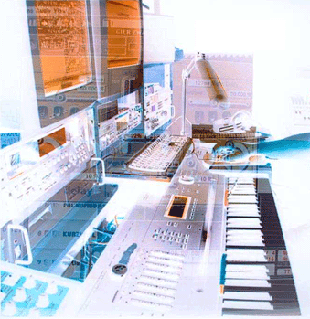 The gear I use
My studio is in the basement - the so-called "sous-sol" - of my house. Nice, if you have ideas in the middle of the night... Here's a list of the gear I use to be creative.
There's a nice set of pictures from my studio in the Photo Gallery.
MACINTOSH APPLE DUAL 500 G4, running LOGIC 6 platinum complete, ABELTON LIVE 3, REAKTOR B4, FM7, STYLUS
TC POWERCORE
MOTU 2408 & 24 I
LOGIC CONTROL
MOOG VOYAGER
NORDRACK 3
WALDORF MICROWAVE
EMU 4
ROLAND VP9000
MIRAGE RACK
TC M3000
TC FIREWORX
HELICON VOICEPRISM
ENSONIQ DP4
YAMAHA CSX1 (control keyboard)
Studio lightning by a big Swedish design company ;-)
---
KURZWEIL K2500XS
K2000 R
VIRUS A
ROLAND V SYNTH
ROLAND VK8M
MACINTOSH TITANIUM 1G 15"
beringher 1 unit 12 channel stereo linemixer
---
Farfisa prof duo organ, Hammond L100, Pedals and stompboxes, Takamine acoustic guitar, Maya Gibson sg copy electric guitar, ....
Microphons : AKG 414, Audio Technica 4041 (2) , AKG416 for the accordion
Little percussions, flutes , toys.....
---
---
FRATELLI CROSIO (1965)
CAVAGNOLLO with free bass (1975)
ORGANE (1999)
---