The story of my life —or how I became a musician— nicely divided into four parts (so far)
Biography
Born in Hasselt, Belgium, September 10th 1956.
At the age of 4 I took my sisters accordion and she never got it back. It was the only toy I never destroyed and playing it never tired me. Strange, because I had a heart disease for which I had to restrain from any physical effort, but the accordeon never made me faint...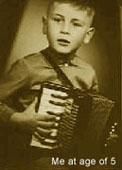 When I was 6, a nice woman Mrs Sikora (+), gave me private lessons. Thanks to her I could read notes before words.
At 8 I went to the local *muziekschool* and had to learn playing another instrument since the accordion was considered inferior. So there comes in the piano. Nevertheless I kept playing the squeezebox.
At 10 I had succesfull heartsurgery (the doctors saved my live).
At 13 I got me another accordion teacher and went to Li╦ge once a week. This guy, Jean Saint Paul, learned me a lot about playing beyond the written notes.
At 14 I went to the conservatory of Liege to study piano. The accordion I kept improving once a month in Paris. I began to play contemporary classical music written for that instrument.
For the first time in my life I started to have troubles, I hated the attitude in the conservatory and feared to become just like a trained poodle in the circus... so by the age of 18 I got thrown out because of my own unadapted attitude. And, to be honest, this made me happy, which cannot be said of my poor parents...
In the meantime, instead of destroying the family's radios, I decided to study electronics as well. I got more and more interested by the music from Stockhausen, Xenakis, Varese...
Then I saw a moog appearing on Leonard Bernsteins program for children. My best friend let me listen to Yes, Pink Floyd did Dark Side....
I (my beloved father lent me the money) bought my first synthesizer; ARP ODESSEY in 1975 and put the accordion on the shelf.
---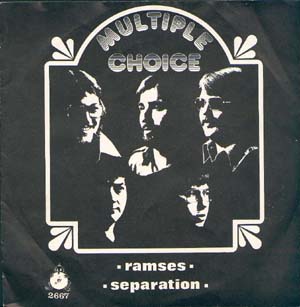 1978 to 1982
I played in some local bands and did my first experiments with self made sync. equipment and ping pong recording.
Played with Pas de Deux, a band that won the last place in the Eurovision songcontest. Their music was quite controversial and experimental. The leader of the band, Walter Verdin, still is a renowned video artist.
1983 to 1985
played and recorded with Luc van Acker, an interesting but controversial musician, who also worked with Ministry and the Revolting Cocks
1986 to 1989
Played with Coyote and the lost Dakotas. Quite controversial. There was a drummer, a guitarist-singer and me doing fast synth basses and playing samples. We blended punk with metal and samples, which was rather unique at the time. We where quite succesfull and had a lot of fun. I remember this time with pleasure.
---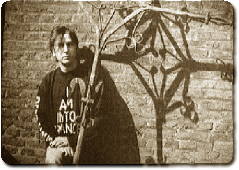 1988
I started my own company Commusic because I decided to make money with my talent and wanted to quit teaching in the time to come. My intention was to make music for picture theater and the likes... I managed to compose for a few industrial videos, which was a good start and brought me to do an advertisement for Lipton tea.
Also that year I started to work with a dj Flip Vanderputte on several dance projects, under different names. Some quite successfull — we once had a notation in the New York and Tokio dance charts. Until this day we work now and then together. We became good friends and I had the honor to be his best man at his wedding. You will not find any records in my discography because there are too many and mainly vinyl, which are out of stock. The most of them are on the Antler Subway label. Flip is now a very succesfull dance producer — one of his tracks hits the London charts at the moment.
1989
Some guy called Arno, the most controversial (yes again) and popular singer in Belgium saw me playing with the Coyotes. A few months later I played on his album Ratata. This was the start of a long and intense collaboration for the next 11 years.
I can proudly say that I have been an important factor in shaping his sound. We toured in Europe, Canada, some exotic places and went to the States for recording (Nashville, heehaaa!!) etc.
1995
I was asked for a tv show Onvoorziene Omstandigheden where everything was improvised from scratch. The format is known in England as A chorus line. From that time I did a few shows for VRT/CANVAS (Belgium National tv).
1996
My first full length movie score: La Sicilia. Listen to some audio-samples in the "Audio - MP3" Movies section.
1998
Started to work for Levende Lijven a radioshow for and about culture and good music.
2000
I decided to stop working with Arno. Despite 11 years of working together and lots of pleasant memories, things became routine and I needed to breath new air. We will still be working together occasionaly.

Busy year; worked with the beautiful Viktor Lazlo, produced an album for Geert Hautekiet, played and recorded on the story of his life album with Alain Bashung (and with Rashid Taha), did a lot of sessions with fine musicians (Mama's Jasje). Worked with Walter Verdin on a video-art project called Miranda (we will be doing some performances next year). Wrote the score for Bruxelles mon amour, etc. etc. (too much).
---
2001
This was definitely the year of U NU. After a first gig at the poetry festival, the girl from theatre Luxemburg asked to do a whole show. Marcel Vanthilt and I did work for a few months to make the whole thing. And then we toured very successful for 3 months. U NU is a piece about Dutch/Flemish poetry from the medieval to the present. We put some kinky medieval verses on dance music, some very kinky 1030 stuff on a string quartet... We had a great time making it and playing it on stage. We put the songs on a CD, distributed by LC Music. Go to the audio page to have a listen. Things looked nice on stage too.
The last season of Radio 1 program Levende Lijven. 5 years of nice collaboration with the producer Rik Moens and his team, played with nice artists and had a great time every Saturday morning. Getting up early can be nice sometimes.
2002
A little bit an off year: crisis in music busines ... and I shared my part of it. Did some studio gigs and worked with my soul mate Flip on several projects nothing . Good ones but nothing really happens.
Like a lot of us I did some jobs to pay the bills.
One nice though, RED ZEBRA, a longtime punkband from Bruges asked me to put, yes, keyboards on their new record. It turned out to be a very good mariage. I also played as their guest at some summerfestivals. More on Red Zebra's website.
From September to December Marcel Vanthilt and I did a new U NU tour because of the many requests. In the end we did 95 shows.
The very last week of this year I did a session on the accordion for Adamo. That was the trigger for a turbulent year to come.
2003
Adamo asked to refurbish his live act. I took the challenge but it didn't really work out and I respected this great songwriter too much to be a pain. So I resigned.
Nevertheless, after some time I was involved in making his new album. Did some string arrangements and played some keyboards and accordion. For detailed info, visit Adamo's website.
Somewhere in May I got a phone call from France, Alain Bashung finished auditions for his new band. He did not find his taste of keyboard player. Could I do it ????? Sure, you simply cannot say no to Alain.
August; whole month rehearsal and preparing the show. Hard but nice work.
September; started the tour in Brussels. Touring will be going on until 15 September 2004.
---